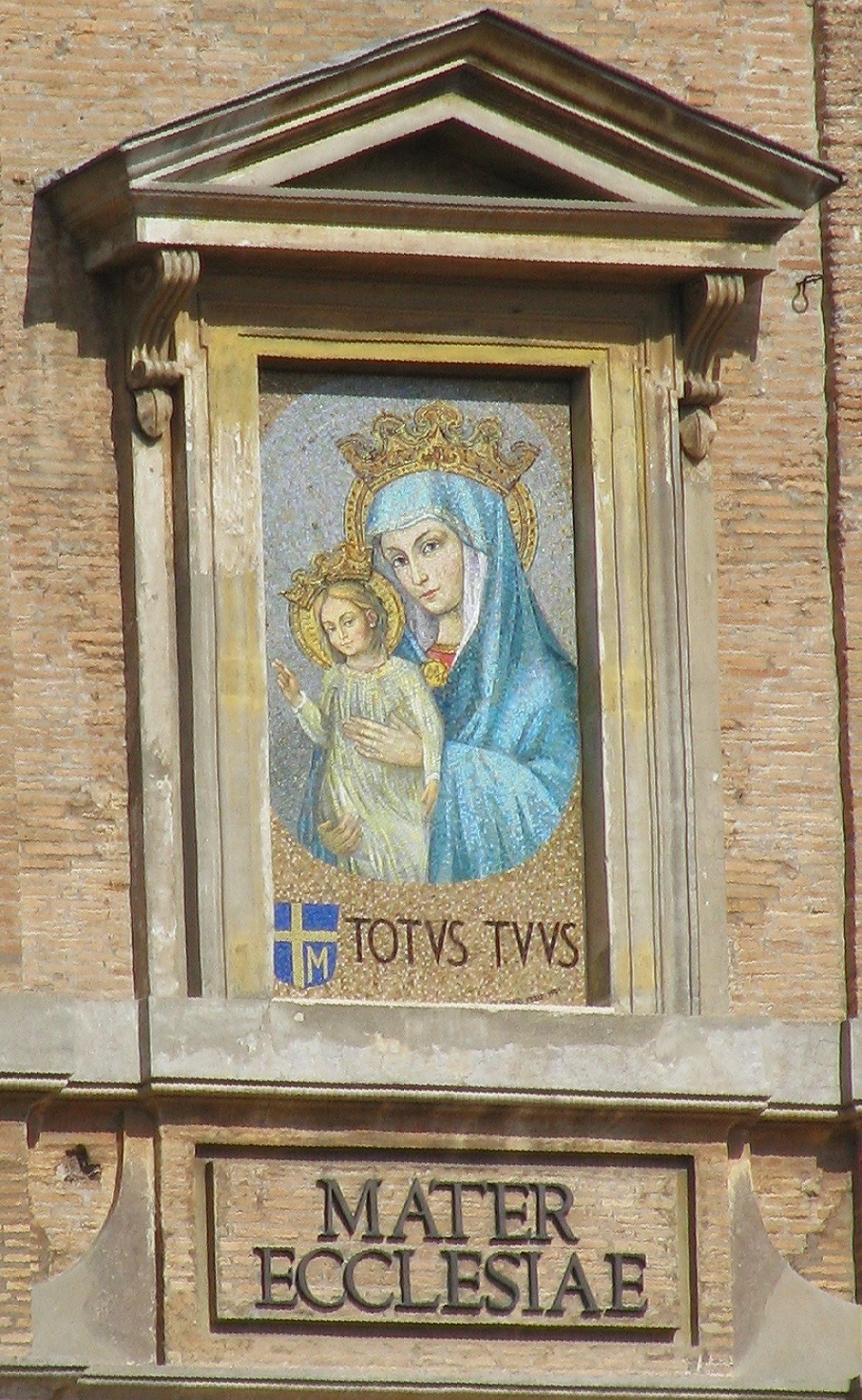 Mother of the Church
Mother of the church
A title given to Mary
By Saint Ambrose of Milan
Maeter Ecclesiae in Latin
And a feast given to her
On the Monday after Pentecost
By pope Francis
Praying with the Apostles
And disciples of Jesus
Imploring the Holy Spirit
Mother of the church
Teacher and Queen
Of the Apostles
The Blessed Mother of God, the New Eve, Mother of the Church, continues in heaven her maternal role with regard to Christ's members, cooperating with the birth and growth of divine life in the souls of the redeemed.

Pope Paul VI's "Credo of the People of God"
Model of the church
Her faith
Her love and hope
Mother of Jesus
Mother of christians
Mother of all
A mosaic of our Lady in Rome
Mother of the Church
last stone of St. Peter's Square
Hugo Rahner theologian said
Mariology was originally ecclesiology
The Church is like Mary
The womb of Mary
is the womb
of the church
She prays for us
Let us pray with her
And implore the Holy Spirit
Biblical References
These all continued with one accord in prayer and supplication, with the women and Mary the mother of Jesus, and with His brothers.
Bible search results from the New King James Version
Matthew 1:16
And Jacob begot Joseph the husband of Mary, of whom was born Jesus who is called Christ.

Matthew 1:18
Christ Born of Mary
Now the birth of Jesus Christ was as follows: After His mother Marywas betrothed to Joseph, before they came together, she was found with child of the Holy Spirit.

Matthew 1:20
But while he thought about these things, behold, an angel of the Lord appeared to him in a dream, saying, "Joseph, son of David, do not be afraid to take to you Mary your wife, for that which is conceived in her is of the Holy Spirit.

Matthew 2:11
And when they had come into the house, they saw the young Child with Mary His mother, and fell down and worshiped Him. And when they had opened their treasures, they presented gifts to Him: gold, frankincense, and myrrh.

Matthew 13:55
Is this not the carpenter's son? Is not His mother called Mary? And His brothers James, Joses, Simon, and Judas?

Mark 6:3
Is this not the carpenter, the Son of Mary, and brother of James, Joses, Judas, and Simon? And are not His sisters here with us?" So they were offended at Him.

Luke 1:26
Christ's Birth Announced to Mary
Now in the sixth month the angel Gabriel was sent by God to a city of Galilee named Nazareth

Luke 1:27
to a virgin betrothed to a man whose name was Joseph, of the house of David. The virgin's name was Mary

Luke 1:30
Then the angel said to her, "Do not be afraid, Mary, for you have found favor with God.

Luke 1:34
Then Mary said to the angel, "How can this be, since I do not know a man?"

Luke 1:38
Then Mary said, "Behold the maidservant of the Lord! Let it be to me according to your word." And the angel departed from her.

Luke 1:39
Mary Visits Elizabeth
Now Mary arose in those days and went into the hill country with haste, to a city of Judah

Luke 1:41
And it happened, when Elizabeth heard the greeting of Mary, that the babe leaped in her womb; and Elizabeth was filled with the Holy Spirit.

Luke 1:46
The Song of Mary
And Mary said: "My soul magnifies the Lord"

Luke 1:56
And Mary remained with her about three months, and returned to her house.

Luke 2:1
Christ Born of Mary
And it came to pass in those days that a decree went out from Caesar Augustus that all the world should be registered.

Luke 2:5
to be registered with Mary, his betrothed wife, who was with child.

Luke 2:16
And they came with haste and found Mary and Joseph, and the Babe lying in a manger.
Luke 2:19
But Mary kept all these things and pondered them in her heart.In Context | Full Chapter | Other Translations 

Luke 2:34
Then Simeon blessed them, and said to Mary His mother, "Behold, this Child is destined for the fall and rising of many in Israel, and for a sign which will be spoken against
John 19:25
Behold Your Mother

Acts 1:14
These all continued with one accord in prayer and supplication, with the women and Mary the mother of Jesus, and with His brothers.
Keep praying with one accord in prayer and supplication, with Mary the mother of Jesus and with His brothers